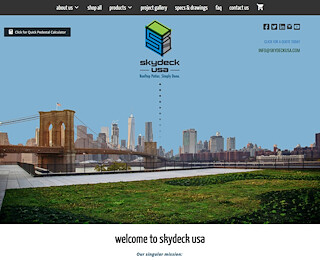 7 Benefits of Skydeck's Pedestal Tile System
Skydeck's Pedestal Tile System is an innovative solution for creating beautiful, functional, and durable outdoor spaces. The system provides a versatile and easy-to-use method for installing pavers, decking, and tiles on rooftops, decks, and other outdoor surfaces. This article will explore seven benefits of Skydeck's Pedestal Tile System and explain why it is the best choice for your next project.
Easy to Install and Adjust
The fact that the Skydeck Pedestal Tile System is so simple to put into action is among its most important advantages. The pedestals are shipped to you already put together and ready to use as soon as you remove them from their packing. Because the adjustable pedestals can be adjusted using a wingnut that is located on the side of the pedestal, setting them up and adjusting them is exceedingly simple. In addition, the pedestals may be adjusted even while the tile is laying atop the pedestal. This eliminates the need to repeatedly lay down and take up pavers in order to set them level. Adjustable pedestals are available in heights ranging from 3/8" up to 38", allowing a broad variety of alternatives for the project you are working on.
Customizable
Skydeck's Pedestal Tile System is highly customizable, making it an excellent choice for any project. The system works with a variety of materials, including Ipe Deck Tiles, solar ballast pavers, and custom aggregates. The company also offers ADA-compliant pavers and LEED-certified pavers, ensuring that you have access to products that meet your specific needs.
Saves Time and Money
The installation process for the Pedestal Tile System is relatively simple, saving you time and money. The system eliminates the need for traditional installation methods that can be time-consuming and expensive. Additionally, the system requires no adhesives or mechanical fasteners, reducing the cost and complexity of the installation process.
Durable and Long-Lasting
Skydeck's Pedestal Tile System is made of top-quality materials, ensuring that it is durable and long-lasting. The system utilizes Ipe Deck Tiles, which are made of Brazilian hardwood and have a Class A fire rating. The tiles are highly resistant to termites, decay, and mold, making them ideal for outdoor use. They are also wear and scuff-resistant, weathers without splintering, and very hard and dense, providing exceptional durability and longevity.
Low Maintenance
Maintaining an outdoor space can be time-consuming and costly. However, Skydeck's Pedestal Tile System is designed to be low maintenance, making it an excellent choice for homeowners and businesses alike. The system requires little maintenance, saving you time and money in the long run.
Fanatical Customer Service
Skydeck has built its reputation on quality products, competitive prices, and fanatical customer service. The company believes that the true measure of a company is how well it serves its clients by being responsive to their needs and delivering quality products on time, every time. Skydeck prides itself on providing exceptional customer service and support to its clients.
Product Return Policy
Skydeck understands that estimating the number and sizes of pedestals needed for a given project can be challenging. To make it easy for customers, the company offers a full refund less an 18% restocking fee for all complete, like-new pedestals that are returned in re-sellable condition. There is no need to separate and organize them. Just throw the extra parts in a box and mail them back to Skydeck. They will sort and assemble them and give you a credit back, no matter how much time has passed since your purchase.
Conclusion
Skydeck's Pedestal Tile System offers a range of benefits that make it a great choice for any outdoor project. From ease of installation and adjustability to durability and low maintenance, this system offers everything you need to create a beautiful, functional, and long-lasting outdoor space. With customizable options, fanatical customer service, and an excellent product return policy, Skydeck is the best choice for your next project. So why wait? Get started on your dream outdoor space today with Skydeck's Pedestal Tile System.
SkyDeck USA
(616) 308-6309
2966 Wilson Dr NW
Walker
MI
49534
View Larger Map
We welcome your comments!