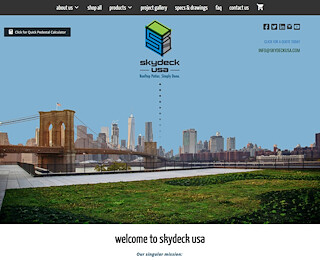 Rooftop patios have become a popular way to extend living spaces, particularly in urban environments where outdoor space is limited. At Skydeck USA, we specialize in providing high-quality rooftop patio solutions that are both beautiful and functional.
One of our most innovative offerings is the Pedestal Decking System, a versatile and reliable solution for creating an attractive and long-lasting rooftop patio. To help you better understand this exceptional system, we've compiled a list of 10 frequently asked questions about Pedestal Decking Systems.
What is a Pedestal Decking System?
A Pedestal Decking System is an elevated decking solution that uses adjustable pedestals to support the deck surface. This system allows for precise leveling and accommodates varying heights and slopes, ensuring a safe, stable, and even walking surface for your rooftop patio.
Why should I choose a Pedestal Decking System for my rooftop patio?
Pedestal Decking Systems offer numerous benefits, including support and stability, optimal drainage, and ease of installation and maintenance. By using a Pedestal Decking System for your rooftop patio, you can ensure a solid foundation and a long-lasting, functional, and beautiful outdoor space.
Are Pedestal Decking Systems suitable for all types of rooftop surfaces?
Yes, Pedestal Decking Systems are designed to work with a variety of rooftop surfaces, including flat and sloped roofs, as well as those with irregular shapes or obstructions. The adjustable pedestals can accommodate various heights and slopes, ensuring a level and stable surface for your rooftop patio.
How does a Pedestal Decking System improve drainage?
By elevating the decking surface, a Pedestal Decking System allows water to flow freely beneath the deck, preventing pooling and potential damage to the underlying structure. This also helps reduce the risk of mold and mildew growth, keeping your rooftop patio clean and healthy.
Can I use a Pedestal Decking System with different decking materials?
Yes, Pedestal Decking Systems are compatible with various decking materials, including wood, composite, and porcelain pavers. This versatility allows you to choose the decking material that best suits your aesthetic preferences and functional requirements.
How does a Pedestal Decking System simplify installation and maintenance?
Pedestal Decking Systems eliminate the need for complex substructures, making the installation process faster and more cost-effective. Additionally, the pedestals provide easy access to the underlying surface, facilitating maintenance tasks such as inspecting or repairing waterproofing membranes.
Are Pedestal Decking Systems environmentally friendly?
Yes, many Pedestal Decking Systems are made from recycled materials, and the pedestals themselves are often recyclable. Additionally, the elevated design promotes proper drainage, reducing the risk of water damage and the need for chemical treatments to prevent mold and mildew growth.
How long do Pedestal Decking Systems last?
Pedestal Decking Systems are designed for durability and longevity, with many systems boasting a lifespan of 20 years or more. The specific lifespan of your Pedestal Decking System will depend on factors such as the quality of materials and installation, as well as proper maintenance.
Are Pedestal Decking Systems suitable for commercial applications?
Yes, Pedestal Decking Systems are ideal for commercial applications, such as rooftop restaurants, hotels, and office buildings. Their versatility, durability, and ease of maintenance make them an attractive option for creating functional and visually appealing outdoor spaces in commercial settings.
Can I install a Pedestal Decking System myself, or do I need professional help?
While some homeowners may feel comfortable tackling a Pedestal Decking System installation themselves, we recommend seeking the assistance of professionals, like our experienced team at Skydeck USA, to ensure a successful and long-lasting installation.
By entrusting your rooftop patio project to our knowledgeable experts, you can be confident that every aspect of the design and installation process will be handled with care, precision, and attention to detail. Are you ready to transform your outdoor space with a Pedestal Decking System? Contact us today to schedule a consultation and take the first step toward creating the stunning rooftop patio you've always envisioned.
SkyDeck USA
(616) 308-6309
2966 Wilson Dr NW
Walker
MI
49534
View Larger Map
We welcome your comments!